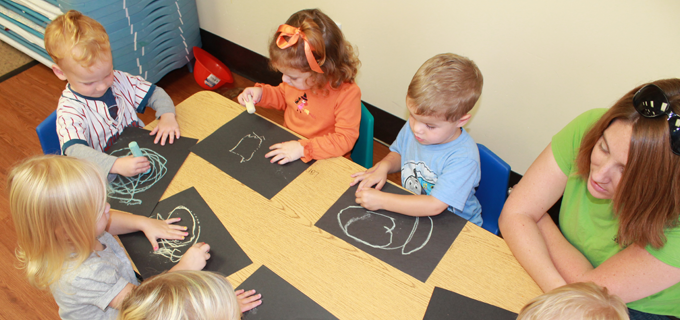 Overview
Our two year old program is designed to begin introducing important preschool fundamentals to your child through a variety of different activities. A daily lesson plan is posted in the classroom for your review. Your two year old's day will consist of indoor playtime, outside playtime, teacher directed activities, naptime and mealtimes. Two year old activities include the following:
• Spanish
• Music Time
• Art Time
• Water and Sand Play
• Story Time
• Gross Motor Activities
The skills and concepts we will work on will be numbers, colors, shapes, fine motor skills, language arts and weather. We incorporate circle time into the day to develop listening and learning skills. We recognize the importance of providing a variety of different activities to reinforce these skills in a consistent manner to keep your two year old engaged in learning and having fun.
2 Year Old Curriculum
Listed below are skills and concepts that are age appropriate for two year olds, and they may be included in their daily activities.
| | |
| --- | --- |
| Numbers | Introduce and begin to recognize numbers 1-10 through games, songs and hands on activities. |
| Colors | Recognize 8 basic colors: red, blue, green, yellow, orange, purple, brown and black. |
| Shapes | Begin to recognize 8 basic shapes: circle, square, triangle, rectangle, oval, star, diamond and octagon. |
| Alphabet | Introduce and begin to recognize letters. |
| Fine Motor Skills | Improve hand coordination through play using a variety of materials: play dough, puzzles, finger plays, art project, songs and more. |
| Gross Motor Skills | Improve large motor skills with directed physical activities: running, jumping, hopping, climbing and more. We make children aware of general body parts. |
| Language Arts | Improve language skills through circle time, songs, play, listening and discussing stories and more. |
| Weather | Introduce concepts about weather (wind, rain, snow, sun) and temperature and the relationship to clothing. |
| Gross Motor Skills | Introduce characteristics of seasons (flowers, leaves, seasonal activities) and holidays. |
| Arts/Crafts | Simple crafts are encouraged with a variety of materials. |